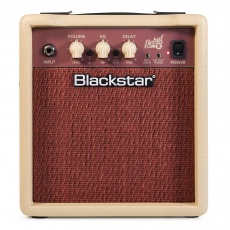 Blackstar
10 Watts
Clean and Overdrive channels
Patented ISF
'Tape' echo effect
Speaker Emulated output
MP3 / Line In
Speakers 2 x 3"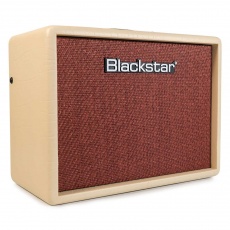 Blackstar
15 Watts
Clean and Overdrive channels
Patented ISF
'Tape' echo effect
Speaker Emulated output
MP3 / Line In
Speakers 2 x 3"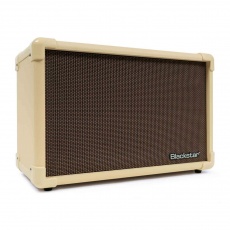 Blackstar
ACOUSTIC:CORE 30 is the new benchmark in compact easy-to-use acoustic amplification for all singer/songwriters.
All in a compact easily portable combo with the option of battery power.

Power 30W (2x15W Super Wide Stereo)
Instrument Channel
Mic/Line Channel
EQ Instrument Channel Low, High
EQ Mic/Line Channel Low, Mid, High/td>
Instrument Enhance
Mic/Line Vocal Clarity
Effects Instrument Channel 2 chorus (Vintage and Wide), 2 reverb (Room and Hall) in Super Wide Stereo
Effects Mic/Line Channel 2 reverb (Room and Hall) in Super Wide Stereo
Super Wide Stereo
XLR D.I. Output (mix)
Phase Feedback Suppression
Speaker Emulated output
Line Out / Headphones
Line In
TRRS Streaming
USB Audio
Footswitch FS-18 (Inst. Ch. Chorus on/off, global Reverb effect on/off)
Tilt-back Stand
PA Stand Mountable Y (with optional SA-2 adaptor)
Speakers 2x5\"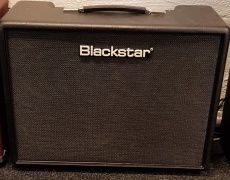 Blackstar
Artist 15

SUPERDEAL:


5.995:-



Ord.pris: 9.090:-

15-watt tube combo
Clean and crunch channels
1 x 12" Celestion V-type speaker
Series effects loop
Onboard reverb
ISF control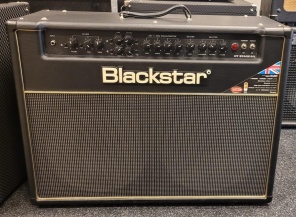 Blackstar
Blackstar HT Stage 60 Guitar Amplifier

Blackstar's ISF (Infinite Shape Feature) technology has the ability to morph guitar tones into different amp voicings, allowing tube amps like the HT Stage 60 to be as versatile as digital modeling amps.

This amp has three channels, all of which expand to different voicings, from Class-A British cleans to Dynamic USA style cleans, to the many different shades of overdriven amp tones. And since this is a Blackstar amplifier, we can expect it to work best when driven hard and high, for modern rock and metal tones.

The preamp section is driven by two ECC83 tubes and an ECC82 tube, while the power amp section is driven by two EL34s, all of which combine for a loud and powerful tone, that's also made versatile via ISF. Each of the three channels come with controls that allow for fine tuning the tones, while the built-in Reverb effect adds air to its all analog tube sound.

Specifications:
Power Rating: 60 Watt
Preamp Tubes: 2 x ECC83, 1 x ECC82
Power Tubes: 2 x EL34
Speaker: 2 x 12" Celestion
Amp Models: Variable via Blackstar's ISF Knob
Effects: 1 (Reverb)
Controls: Clean (Volume, Bass, Treble, Voice and Clean Button), OD1 & OD2 (Gain 1, Gain 2, Volume 1, Volume 2, ISF, Bass, Middle, Treble, Reverb, Multiple Buttons for Voice and OD), Master ( Resonance, Presence, Volume)
Input: 1 x 1/4"
Output: 4 x 1/4" (Speaker), 1 x 1/4" (DI)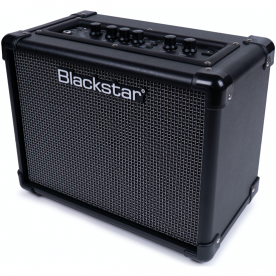 Blackstar
Tredje generationens ID:Core Stereo, med 10W uteffekt, är en gitarrförstärkare av combomodell.
ID:Core v3 har inbyggt förstärkarsimulering med 6 olika modeller, 12 stereoeffekter, ISF EQ, stämapparat,
USB för koppling mot dator, och levereras med programvarorna Blackstar Architect och Cab Rig Lite.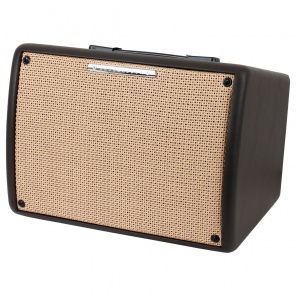 Ibanez
Troubadour T30II

Akustisk förstärkare 30W



2.695:-
Ibanez Troubadour förstärkare är designade för dig som spelar akustisk gitarr. Den är lätt att bära med sig och reproducerar ett varmt och kristallklart akustiskt ljud. Läcker design med känslan av ett "hand-crafted boutique" exemplar och där stor vikt lagts på portabilitet.
Vare sig du har ett gig i ett café, pub eller övar hemma så kommer din Troubadour snart bli en lika naturlig del av din utrustning som din gitarr.
T30II har 2 separata kanaler, med separata volymkontroller, en för gitarr och en med mikrofoningång, inbyggt chorus och reverb samt AUX-ingång för dig som vill koppla in en musikspelare.

• Output 30W 8 Ohm.
• Speaker 8" Speaker.
• Gitarr kanal 1: Volume, Bass, Treble, Chorus Speed & On/Off switch, Reverb & On/Off switch
• Mikrofon kanal 2: Volume, Bass, Treble, Reverb & On/Off switch.
• Master Volume.
• I/O: Guitar Input, Microphone Input (XLR), Aux Input, Line Out.
• Cabinet: Closed back w/Tilt-Up System.
• Mått (mm): 340 (W) x 240 (D) x 276 (H) (mm)
• Vikt: 6.35 kg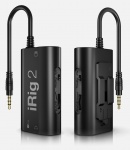 iRig 2
Mobile Guitar Interface



495:-
Mobil miniförstärkare med mängder av effekter.

Uppdaterad modell med många nya smarta funktioner.

Passar till iPhone, iPad, Mac och Android.

6,3 mm in- och utgång samt 3,5 mm-anslutning för hörlurar.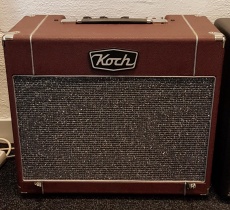 Koch
Classic SE Combo

SUPERDEAL:



6.995:-



Ord.pris: 10.500:-

Channels: One
Controls: Gain, Tone, Volume
Switches
Front Panel: Gain Boots, Mid Boost, Bass Cut
Back Panel: Speaker On/Off with Speaker-Load
Output Switch
12W version: 12W / Standby /4W
Recording Out, with Speaker Simulation
Line Input: 0 dBV
Speaker outputs; 4, 8, 16 Ohm
Speaker: Koch VG12-60
Combo Dimensions 54w x 46h x 25d
Weight Combo 14.5 kg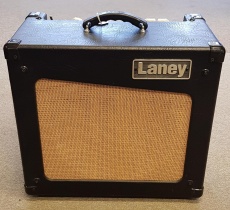 Laney
Designed and engineered in Great Britain, the CUB12R delivers pure,
vintage tube tone in a small format, low wattage combo providing classic
vintage sounds without complicated control layouts or excessive volume
levels.

From 15 watts to less than 1 watt the CUB12R delivers warm cleans
to rich crunch, giving all the classic tones you need.

Ideal for beginner or the
more advanced player the CUB12R is great at home, on stage or in the studio.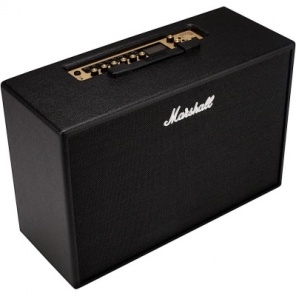 Marshall
Code 50

NU:

2.999:-



Ord.pris: 3.199:-
TECHNICAL SPECIFICATION

Model: CODE50

Output wattage: 50W

Outputs Controls: 100 editable presets, bass, middle, treble, gain, volume, pre-FX,
amplifier models, modulation effects, delay effects, reverb effects, power amplifier models,
speaker cabinets, additional controls available via Marshall Gateway app for iOS and Android devices

24 different built-in effects (5 simultaneously)

Speaker configuration: 1x12"
Marshall
JCM 800 Lead Series, mod. 2203
Inkl. flightcase

BEG.



18.995:-
Tommy Folkesson-modifierad Mk VI från 1984.

4 kanaler: Clean, crude, crunch och lead.
Inbyggd metal-switch där karaktären förändras främst i anslaget, tightheten i botten och klangfärgen ut.

Priset är inkl. den stora fyraknappars fotomkopplaren.


Marshall
Marshall JVM 210H · Guitar Amp Head

The Marshall JVM210H Guitar Amplifier Head delivers a full range of tones built upon Marshall's EL34 output tube ciarcuitry.
This built-in England amplifier provides multiple all-valve voicings that are accessible from the front-panel switches, MIDI or via the supplied footswitch. The JVM210H head amp also features a studio quality digital reverb, two effects loops, silent recording capability, and two master volumes giving a vast array of footswitchable tones.

The 2-channel JVM210H gives you six "modes," covering two independent channels with three gain stages, each with its own footswitchable memory. It's a great feature for ultra-flexible onstage switching via the included dedicated, programmable footswitch. Two effects loops, independent reverb for each channel, a speaker-emulated XLR line out, and two footswitchable master volumes are also great features onboard the JVM210H.

Technology: Valve
Power: 100 W
Channels: 2
Gain Levels: 3 per channel
EQ: 2x bass, mids, treble
Inserts: Parallel
Pre Amp Valves: 5x 12AX7
Power Amp Valves: 4x EL34
Effects: Hall / Reverb
Impedance: 4/8/16 ohms
Including: Footswitch
Dimensions (WxHxD): 75,0 x 31,0 x 21,5 cm
Weight: 22,0 kg
Country of Origin: England
100-watt All-tube Guitar Amp Head with 2 Channels, 3 Modes, Reverb, Effects Loops, MIDI switching, Line Out, and Programmable Footswitch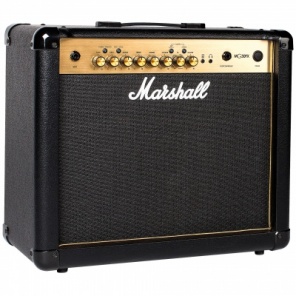 Marshall
MG30FX 30W

NU:

2.195:-



Ord.pris: 2.295:-
The Marshall MG30GFX Gold 30W is a portable gigging combo that delivers real Marshall tone and good looks. With its iconic 'gold' front panel and script logo, the MG30GFX offers a small piece of Marshall heritage in a portable grab-and-go package. With 4 channels, 2 different kinds of overdrive and a master effects section, the MG30GFX is the ideal amp for the progressing guitarist or for musicians who require a quality gigging amp.

30 Watt Gigging Combo With 'Gold' Panel Design
4 Channels For Versatile Clean, Crunch & Overdrive Sounds
Digital FX: 4 Types Plus Independent Reverb
Headphone Out For Silent Practice
AUX-In For Jamming To Your Own Music

Series: MG Gold
Power: 30 Watts
Controls: Gain, Bass, Middle, Treble, Reverb, Volume, FX Type/Level, Master, Clean/Crunch Switch, OD1/OD2, Tap, Store
Channels: 2
Speaker: 1 x 10''
Connectivity: Guitar In, Aux In, Headphone Out, Footswitch In
Footswitch: Optional PEDL-90008 Not Included
Weight: 10.8 kg
Dimensions: 480 x 420 x 225 (W x H x D mm)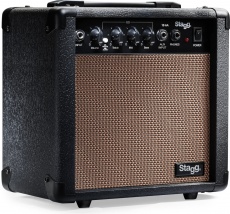 Stagg
10-watt acoustic amplifier



1.187:-
Power
10 watts (RMS)
Speaker
8", 8 ohms, with coaxial tweeter
Frequency response
70 Hz to 12 kHz
Total harmonic distortion
0.2 %
Signal to noise ratio
-68 dB at maximum rated power
Input impedance
180k ohms
Controls
3-band equaliser (bass, middle, treble), volume control, active or passive instrument mode
Inputs
Instrument or microphone, auxiliary device (stereo jack)
Output
Headphones (6.35 mm (1/4") standard jack)
Power consumption
20 watts
Dimensions
27.7 x 25.7 x 17.2 cm (10.9 x 10.1 x 6.8")
Weight
5 kg (11 lb)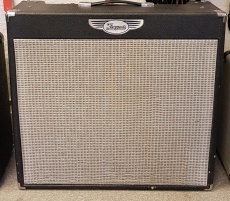 Traynor
Custom Valve 80

BEG.



3.995:-



Brand: Traynor
Model: YCV80 Custom Valve 80 Watt 2x12" Guitar Combo
Finish: Black
Made in Canada