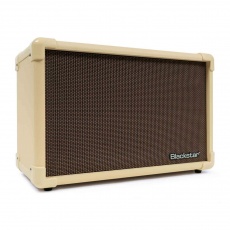 Blackstar
ACOUSTIC:CORE 30



2.995:-



Ord.pris: 3.639:-
ACOUSTIC:CORE 30 is the new benchmark in compact easy-to-use acoustic amplification for all singer/songwriters.
All in a compact easily portable combo with the option of battery power.

Power 30W (2x15W Super Wide Stereo)
Instrument Channel
Mic/Line Channel
EQ Instrument Channel Low, High
EQ Mic/Line Channel Low, Mid, High/td>
Instrument Enhance
Mic/Line Vocal Clarity
Effects Instrument Channel 2 chorus (Vintage and Wide), 2 reverb (Room and Hall) in Super Wide Stereo
Effects Mic/Line Channel 2 reverb (Room and Hall) in Super Wide Stereo
Super Wide Stereo
XLR D.I. Output (mix)
Phase Feedback Suppression
Speaker Emulated output
Line Out / Headphones
Line In
TRRS Streaming
USB Audio
Footswitch FS-18 (Inst. Ch. Chorus on/off, global Reverb effect on/off)
Tilt-back Stand
PA Stand Mountable Y (with optional SA-2 adaptor)
Speakers 2x5\"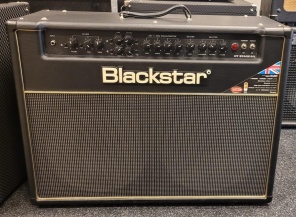 Blackstar
Blackstar HT Stage 60 Guitar Amplifier

Blackstar's ISF (Infinite Shape Feature) technology has the ability to morph guitar tones into different amp voicings, allowing tube amps like the HT Stage 60 to be as versatile as digital modeling amps.

This amp has three channels, all of which expand to different voicings, from Class-A British cleans to Dynamic USA style cleans, to the many different shades of overdriven amp tones. And since this is a Blackstar amplifier, we can expect it to work best when driven hard and high, for modern rock and metal tones.

The preamp section is driven by two ECC83 tubes and an ECC82 tube, while the power amp section is driven by two EL34s, all of which combine for a loud and powerful tone, that's also made versatile via ISF. Each of the three channels come with controls that allow for fine tuning the tones, while the built-in Reverb effect adds air to its all analog tube sound.

Specifications:
Power Rating: 60 Watt
Preamp Tubes: 2 x ECC83, 1 x ECC82
Power Tubes: 2 x EL34
Speaker: 2 x 12" Celestion
Amp Models: Variable via Blackstar's ISF Knob
Effects: 1 (Reverb)
Controls: Clean (Volume, Bass, Treble, Voice and Clean Button), OD1 & OD2 (Gain 1, Gain 2, Volume 1, Volume 2, ISF, Bass, Middle, Treble, Reverb, Multiple Buttons for Voice and OD), Master ( Resonance, Presence, Volume)
Input: 1 x 1/4"
Output: 4 x 1/4" (Speaker), 1 x 1/4" (DI)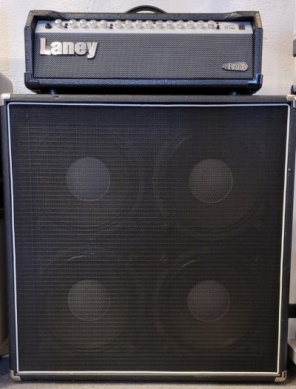 Laney
TF 700 120 w head inkl. 4x12 högtalare

BEG.



3.495:-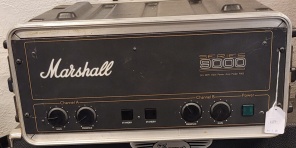 Marshall 9000 Series Preamp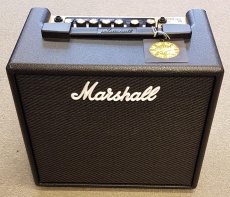 Marshall
Code 25

NU:

2.390:-



Ord.pris 2.549:-
Power rating: 25 Watt
Equipped with 1x 10" loudspeaker
100 Adjustable presets
14 Preamp models
4 Power amp models
8 Loudspeaker models
24 Professional effects
Up to 5 effects at the same time
Bluetooth & USB connection available
Marshall Gateway app compatible
Headphones out
Line in
Tuner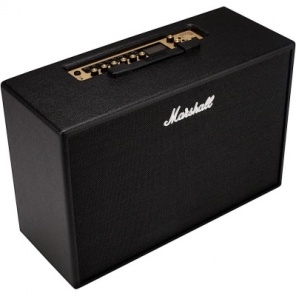 Marshall
Code 50

NU:

3.499:-



Ord.pris: 3.699:-
TECHNICAL SPECIFICATION

Model: CODE50

Output wattage: 50W

Outputs Controls: 100 editable presets, bass, middle, treble, gain, volume, pre-FX,
amplifier models, modulation effects, delay effects, reverb effects, power amplifier models,
speaker cabinets, additional controls available via Marshall Gateway app for iOS and Android devices

24 different built-in effects (5 simultaneously)

Speaker configuration: 1x12"
Marshall
JCM 800 Lead Series, mod. 2203
Inkl. flightcase

BEG.



18.995:-
Tommy Folkesson-modifierad Mk VI från 1984.

4 kanaler: Clean, crude, crunch och lead.
Inbyggd metal-switch där karaktären förändras främst i anslaget, tightheten i botten och klangfärgen ut.

Priset är inkl. den stora fyraknappars fotomkopplaren.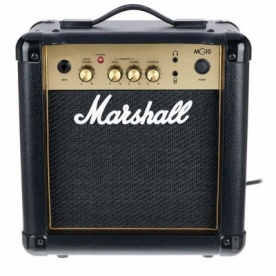 Marshall
Marshall MG-10G Combo gitarrförstärkare

NU:

999:-



Ord.pris 1.099:-
Power: 10W
2 channels: clean and overdrive
Equipment: 6.5 "speaker
Contour tone control
Combined CD input
Headphone jack
Emulated line out
Emulated headphone output
Dimensions (W x H x D): 296 x 314 x 175 mm
Weight: 4.8 kg
Finish: Black / Gold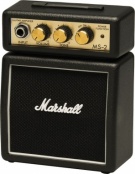 Marshall MS-2
The MS-2TM is a 1W micro amp that may be small but will deliver the true Marshall tone. It is battery powered and can plug into mains so it's versatile enough to play on the move or practice in your bedroom.

With a belt clip the MS-2 can be taken and played anywhere you like.

Even though it is small, it packs a punch and includes an overdrive channel for that dirty crunch.

There is a ¼" headphone socket that can double up as a pre amp out, so you can play in a variety of environments.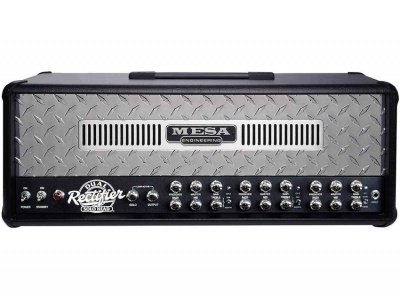 Mesa Boogie
Dual Rectifier Solohead

BEG.

NU:

15.995:-
Mesa Boogie Dual Rectifier Solo Head 3-Channel 100-Watt Guitar Amp Head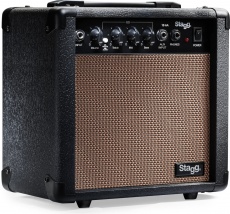 Stagg
10-watt acoustic amplifier

NU:

1.295:-



Ord.pris 1.449:-
Power
10 watts (RMS)
Speaker
8", 8 ohms, with coaxial tweeter
Frequency response
70 Hz to 12 kHz
Total harmonic distortion
0.2 %
Signal to noise ratio
-68 dB at maximum rated power
Input impedance
180k ohms
Controls
3-band equaliser (bass, middle, treble), volume control, active or passive instrument mode
Inputs
Instrument or microphone, auxiliary device (stereo jack)
Output
Headphones (6.35 mm (1/4") standard jack)
Power consumption
20 watts
Dimensions
27.7 x 25.7 x 17.2 cm (10.9 x 10.1 x 6.8")
Weight
5 kg (11 lb)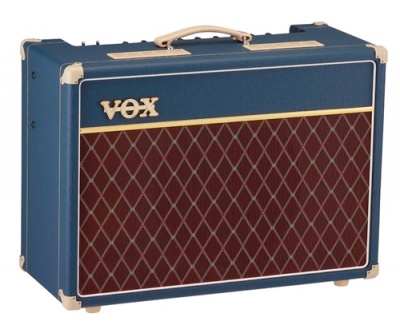 VOX AC15C1-RB
Combo Rich Blue - Ltd Edition
Limiterad utgåva av denna klassiker i läckra Rich Blue-finish!



8.795:-
15w gitarrcombo Rich Blue LTD
En legendarisk 15w rörförstärkare med två kanaler & inbyggda effekter som här fått en superfräck look i limiterad upplaga!
AC15C1-RB har en normal & en Top Boost-kanal samt inbyggt fjäderreverb & tremolo.
Sedan 1958 har AC15 bibehållit sin plats som en av världens mest populära gitarrförstärkare.
Med ett register från ett kristallklart & skimrande ljud till kompakt overdrive trivs den i de flesta musikaliska sammanhang.

Specifikationer AC15C1-RB :
Effekt: 15w RMS (16ohm)
Typ: Rörförstärkare
Rörbestyckning: 3 x 12AX7 och 2 x EL84
Högtalare: 1 x 12" Celestion G12M Greenback
Kanaler: Normal & Top-boost
Effekter: Tremolo & reverb
Vikt: 21,6 kg
Bredd: 605mm
Höjd: 440mm
Djup: 262mm
Volym & Gain-kontroll
Utgång för External Speaker & Extension Speaker
Ingång för footswitch VFS2 (ingår ej)
Limited Edtition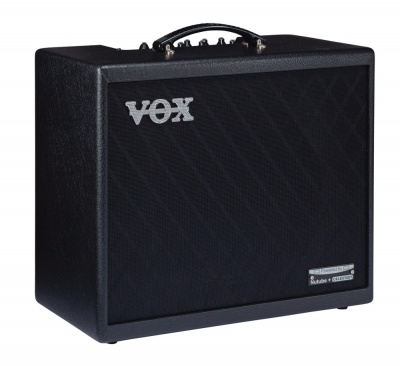 VOX Cambridge 50
50W modulerande gitarrförstärkare
50 watts combo med exklusiva modulerande sounds!

NU:

3.995:-



Ord.pris: 4.150:-
Kompakt gitarrförstärkare med supermoderna modelingtekniken VET & Nutube för ett klassiskt rörsound.
Förstärkaren är på 50W med en 12" Celestion-högtalare & öppen låda.
Programvaran JamVOX III ingår så du kan labba med dina sound på ett helt fantastisk sätt.

Specifikationer Cambridge50:
50w förstärkare
1x 12" Celestion-högtalare
VET - Modelingteknik med oöverträffad realism
Nutube-teknologi
USB audio interface
VOX JamVOX III modeling software
11 realistiska förstärkarmodeller
8 inbyggda effekter
11 preset program
Kompatibel med VFS5 & VFS2 (säljs separat)
Bredd: 452mm
Höjd: 410mm
Djup: 240mm
Vikt: 8,9kg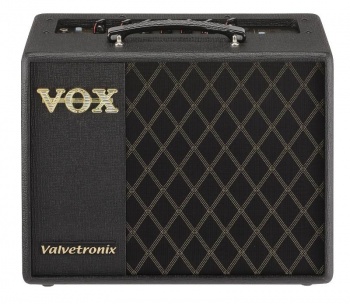 VOX VT20X
Valvetronix - Gitarrförstärkare
Smidig & kraftfull combo fullmatad med ljud, effekter & simulatorer!

NU:

2.795:-



Ord.pris: 2.995:-
40W gitarrförstärkare
VOX VT40X låter bättre än någonsin tack vare VET (Virtual Element Technology), en ny modelingteknik som baseras på analys av enskilda komponenter och kretsar. De har också försetts med en multistegs rörpreamp, en design som bygger på autentiska analoga kretsar som med precision återger ton, dynamik och respons som är unik för rörförstärkare. Via USB anslutningen och det medföljande editeringsprogrammet VOX Tone Room skapar och sparar du dina egna ljud med total överblick och kontroll.

Specifikationer VT40X:
40w förstärkare
1x 10" högtalare
Bredd: 462mm
Höjd: 404mm
Djup: 225mm
Vikt: 9,5kg
VET - Modelingteknik med oöverträffad realism
Rörbestyckad Valvetronix-preamp med multistegs förstärkarkrets
Kraftfull DSP med exceptionell ljudkvalitet
Hybridslutsteg (digital/analog)
Unik chassidesign med precis bas- och förstärkarresonans
USB anslutning (typ B)
VOX Toneroom Editor/Librarian programvara för PC/Mac, Android och iOS
11 realistiska förstärkarmodeller (20 när Tone Room editor/librarian används)
13 inbyggda effekter
33 preset program (60 inklusive artist program när Tone Room editor/librarian används)
Kompatibel med VFS5 footswitch för programbyten, effekt på/av och Tap-Tempo (säljs separat)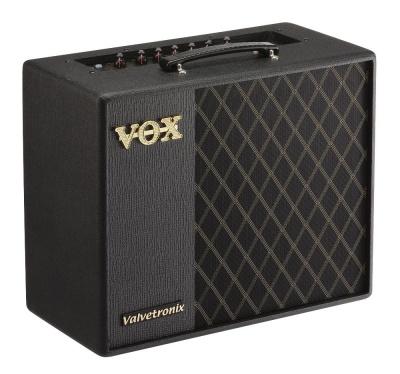 VOX VT40X
Valvetronix - 40W gitarrförstärkare

NU:

3.495:-



Ord.pris: 3.695:-
VOX VT40X låter bättre än någonsin tack vare VET (Virtual Element Technology), en ny modelingteknik som baseras på analys av enskilda komponenter och kretsar. De har också försetts med en multistegs rörpreamp, en design som bygger på autentiska analoga kretsar som med precision återger ton, dynamik och respons som är unik för rörförstärkare. Via USB anslutningen och det medföljande editeringsprogrammet VOX Tone Room skapar och sparar du dina egna ljud med total överblick och kontroll.

Specifikationer VT40X:
40w förstärkare
1x 10" högtalare
Bredd: 462mm
Höjd: 404mm
Djup: 225mm
Vikt: 9,5kg
VET - Modelingteknik med oöverträffad realism
Rörbestyckad Valvetronix-preamp med multistegs förstärkarkrets
Kraftfull DSP med exceptionell ljudkvalitet
Hybridslutsteg (digital/analog)
Unik chassidesign med precis bas- och förstärkarresonans
USB anslutning (typ B)
VOX Toneroom Editor/Librarian programvara för PC/Mac, Android och iOS
11 realistiska förstärkarmodeller (20 när Tone Room editor/librarian används)
13 inbyggda effekter
33 preset program (60 inklusive artist program när Tone Room editor/librarian används)
Kompatibel med VFS5 footswitch för programbyten, effekt på/av och Tap-Tempo (säljs separat)