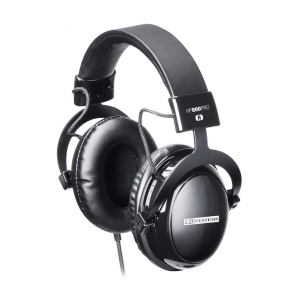 LD
The LDHP800PRO offers optimum control, perfect comfort and a high-quality sound. Thanks to its compact design, the LDHP800PRO is just as suitable for use in the studio as it is for use on stage or for a DJ set.

The soft ear pads ensure optimum, long-lasting comfort, while the highly flexible spiral cable, which is attached on one side and has 6.3 and 3.5-mm jack connectors, guarantees maximum freedom of movement. A screw adapter is also supplied.

The specifications are also impressive - with a frequency range of 15 hertz to 25 kilohertz and an impedance of 60 ohm, the LDHP800PRO sounds amazing and ensures perfect control, even when there are high levels of ambient noise.

Specifications
* Type: closed
* Frequency Range: 15 Hz - 25.000 Hz
* Impedanz: 60 Ohms
* Adapter: 6,3 and 3,5 mm Jack
* Cable Type: onesided, coiled
* Cable Length: 1,2 - 4 meters



829:-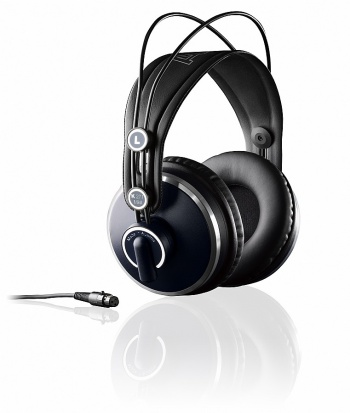 AKG
Information:
The newly designed AKG legend, K 271 MK II combines the benefits of AKG's circumaural design for extreme comfort and a closed-back design for maximum isolation from ambient noise. Thanks to its XXL transducers, the K 271 MK II sounds clean, smooth and very rich.
The K 271 MK II is the perfect choice for any application where sonic bleed could cause problems such as broadcast work.
Another important feature of the K 271 MK II is the addition of a switch in the headband that mutes the audio just as soon as the headphones are taken off.

Professional circumaural hi-fi stereo studio headphones
Self-adjusting headband for optimum fit
Patented Varimotion speakers
High noise attenuation
For onstage and studio use
Automute feature mutes headphones when they are taken off
Leatherette and additional velvet ear pads
Single-sided, detachable 3 m cable and additional 5 m coiled cable
Also connects to portable equipment (CD players, DAT recorders, notebook computers, etc.)



1.350:-


Ord: 1.650:-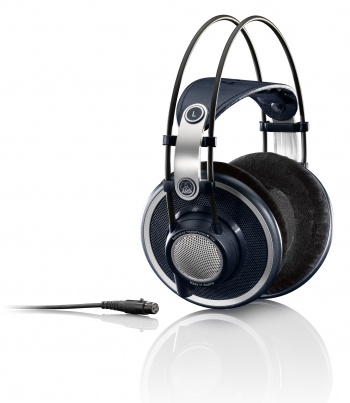 AKG
High-End Reference Headphones - revolutionary flat wire voice coil technology, Varimotion 2-layer diaphragm, dynamic, open back design, 62ohm thomann impedance, frequency range: 10Hz-39.8kHz, 200mW maximum input power, 3m cable with gold-plated 3,5 mm jack connector, incl. 6,3 mm adapter, Weight: 297 g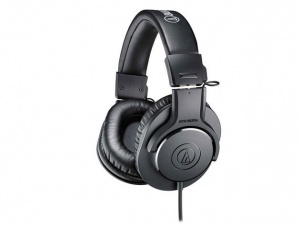 audio-technica
Information:
The ATH-M20x professional monitor headphones are a great introduction to the critically acclaimed M-Series line. Modern design and high-quality materials combine to deliver a comfortable listening experience, with enhanced audio and effective isolation. An excellent choice for tracking and mixing.

Features:
Advanced build quality and engineering
40 mm drivers with rare earth magnets and copper-clad aluminum wire voice coils
Tuned for enhanced low-frequency performance
Circumaural design contours around the ears for excellent sound isolation in loud environments
Convenient single-side cable exit

Specifications:
Type: Closed-back dynamic
Driver Diameter: 40 mm
Magnet: Neodymium
Voice Coil: Copper-clad aluminum wire
Frequency Response: 15 - 20,000 Hz
Maximum Input Power: 700 mW at 1 kHz
Sensitivity: 96 dB
Impedance: 47 ohms
Weight: 190 g (6.7 oz), without cable and connector
Cable: 3.0 m (9.8'), straight, left-side exit
Accessory Included: 6.3 mm (1/4") snap-on adapter



449:-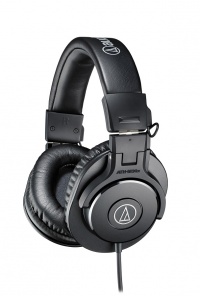 audio-technica
Information:
With enhanced audio clarity and sound isolation, the ATH-M30x professional monitor headphones are tuned for highly detailed audio. Featuring strong mid-range definition, these versatile monitoring headphones are ideal in a variety of situations. Designed primarily for studio tracking and mixing, they offer added features for increased portability, making them a great choice for field recording.

Features:
Advanced build quality and engineering
40 mm drivers with rare earth magnets and copper-clad aluminum wire voice coils
Tuned for enhanced detail, with excellent mid-range definition
Circumaural design contours around the ears for excellent sound isolation in loud environments

Specifications:
Type: Closed-back dynamic
Driver Diameter: 40 mm
Magnet: Neodymium
Voice Coil: CCAW (Copper-clad aluminum wire)
Frequency Response: 15 - 22,000 Hz
Max Input Power: 1,300 mW @ 1KHz
Sensitivity: 96 dB
Impedance: 47 ohms
Folding/collapsible: Yes
Weight: (Without cable) 7.8 oz (220 g)
Cable - Detachable: No
Cable: 3 m (9.84') Straight cable, left-side exit
Connector: Gold-plated stereo 1/8" (3.5 mm) connector with strain relief
Accessories included: Screw-on 1/4" adapter, pouch



629:-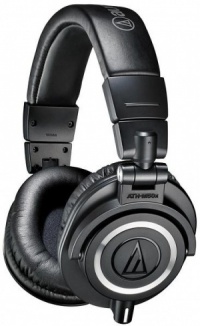 audio-technica
Slutna hörlurar med enastående komfort och ljudkvalité, 2000-talets mest populära hörlur

ATH-M50 har ett neodymiumelement på 45 mm med rejäl dynamisk bas, öppet och mjukt mellanregister samt luftig diskant. Detta är en lur som funkar för alla sammahang! Den helomslutande designen gör att kåporna lägger sig runt öronen istället för ovanpå, vilket ger maximal isolering mot störande oljud från omgivningen. Frekvensomfång 15-28000 Hz. Impedans 38 Ohm. 1,2 m spiralkabel, utdragbar till 3 m, med guldpläterad 3,5/6,3 mm stereokontakt.



1.395:-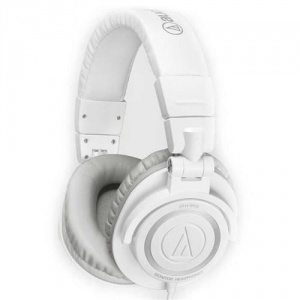 audio-technica
KRK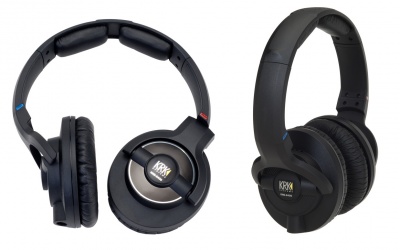 KRK KNS 6400 Technical Specifications
Configuration:
Closed back, circumaural
System type:Monitor Headphones
Cable: 2.5 m
Ear Cushion type:Acoustic cellular foam
Headpad Finish:Leatherette
Nominal Headband Pressure:4 N (based on average head size)
Ambient Noise Isolation: up to 26 dBA
Tranducer: 40mm, neodymium
Power Handling Full Range:1000mW
Nominal Impedance: 36 ohms
Frequency Response:10Hz to 22KHzSensitivity (1mW):95 dB SPL
Calculated Max SPL:122 dB
SPLConnector:Gold-plated stereo 1/8" (3.5 mm)
Volume Control:N/A
Finish:Black impact resistant plastic
Dimensions:3.7" (94mm) x 10.5" (267mm) x 9.6" (244mm)Weight:0.46 Lbs. (0.21Kg)



895:-


Ord: 995:-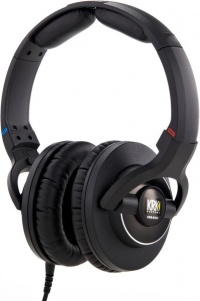 KRK
KRK KNS 8400 Headphones - closed back, dynamic, 40mm drivers, 97dB SPL @1mW, 5Hz-23kHz, 36 Ohms rated impedance, ambient noise isolation up to 30dBA, gold-plated stereo mini-jack connector with screw-on 1/4" jack adapter, volume control on cable, acoustic memory foam. Dimensions: 245 x 268 x 94mm. Weight without cable: 232g



1.495


Ord: 1.695:-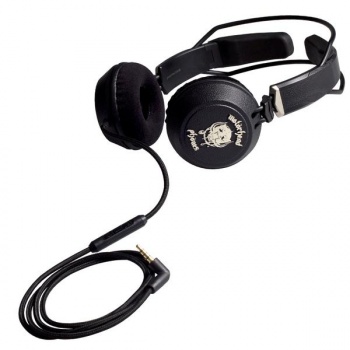 Motörhead
Heavy metal-lurar med mikrofon från Motörhead.

Med över 20 studioalbum av dieseldoftande heavy metal bakom sig har Motörhead tagit fram en serie av hörlurar som låter dig njuta av passionerat och djuriskt ljudsex rätt in i örat varje gång du kickar igång dina favoritlåtar. Det spelar ingen roll om det är en pudelballad eller den senaste In Flames-plattan du lyssnar på, trycket och klarheten i ljudet finns där redo att omfamna dig.



Bomber är designade för att sitta bekvämt över öronen utan att de känns tunga på huvudet. Neodymiumelementen på 30 mm ger ett varmt, fylligt ljud som bara "råkar" passa extra bra för falsettsång, vrålande plankor och bombastiska trummor. På kabeln finns en fjärrkontroll med inbyggd mikrofon så du kan använda lurarna till din smartphone.



Frekvensomfång 20-20000 Hz. Impedans 24 Ohm. 1,1 m flätad enkelsidig kabel med 3,5 mm guldpläterad hörlurskontakt.



499:-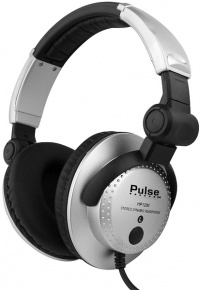 Pulse
Hörlurar i studiokvalitet. Perfekt till ditt keyboard/digitalpiano. Även för lyssning vid inspelning i studion eller replokalen.

• Rikt ljud i basen
• Balanserad mid-range
• Klar karaktärestik i höga frekvenser.
• Byggd med bra isolering för att hindra läckage av ljud.
• 4 meter kabel
• Standard 3,5 mm kontakt.
• Adapter för 6.3mm (stort jack) ingår.



295:-



Sennheiser
290:-



Sluten dynamisk hörlur - Bästa budget hörluren för Studios och MP3 spelare!
Hög ljudkvalitet och bra basåtergivning behöver inte vara dyrt. HD 201 är en stryktålig lättviktshörlur med bra dämpning mot omgivningsljud. Mycket prisvärd! En riktig klassiker har återigen skapats av Sennheisers supertunga utvecklings team som gör både billiga och dyra hörlurar med outstanding kvalité. Kraftfullt stereoljud - Bra basrespons - Skön komfort - Extremt stryktålig, Högkvalitéts läderkåpor, Guldpläterad kontakt, 2 års garanti. Sennheiser har marknadens bredaste program av hörlurar, allt från in-ear modeller till referenshörlurar för studio och hem.

Alla Sennheiser hörlurar har ett detaljerat ljud och sitter skönt för långa lyssningspass. HD 201 är en skön robust hörlur som tack vare sin låga vikt och sköna kåpor är komfortabla även under långa lyssningar. Att den är prisvärd är ingen överdrift.
Sennheiser
490:-



OVERVIEW

Designed for DJs, these headphones offer exceptional sound and comfort.

The Sennheiser HD 205-II headphones provide studio-grade detail and frequency response coupled with brilliant shielding of ambient noise. The rotatable earcup, as well as the single-sided cable, make them a professional companion for DJ's and home recording. Unlike competitive headphones, the earcup rotates while maintaining earpad contact on your head for stability and comfort without leaking noise into adjacent microphones. The Sennheiser HD 205-II headphones comes with a convenient protective pouch and locking 1/4" adapter for storage and transportation.
FEATURES

Rotatable padded ear-cup for comfortable, single-ear listening
Perfect for DJ or studio use
Outstanding shielding of ambient noise
Hypo-allergenic earpads are field-replacable and easy to clean
Rugged construction takes a beating on the road
Includes protective storage pouch for safe transport
Dynamic, smooth audio reproduction with deep bass extension
1/8" plug (3.5mm) with screw-on 1/4" (6.3mm) adapter included
Built-tough with a 2-year warranty
Includes:
1/4" (6.3mm) gold-plated adapter screw-on jack adapter,

SPECIFICATIONS

HD205 II Closed Back On Ear Studio Headphones

Cable length: 10' (approx 3 m)
Ear coupling: Semi On-the-ear
Frequency response (headphones): 14-20,000Hz
Jack plug: 1/8"
Nominal impedance: 32Ω
Sound pressure level (SPL): 112dB (SPL)
Total harmonic distortion (THD): < 0.5%
Transducer principle: Dynamic, closed
Weight w/o cable: 7.3oz.. (206g, no packaging)
Dimensions (single): 4.3" x 8.3" x 10.80"
Weight (single): 0.80lb.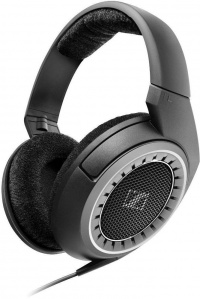 Sennheiser
For a combination of street style and prowess, the HD 439 closed-back stereo headphones are the choice. These headphones offer you the world of audio with a bold and revolutionary design, including a chrome inner lining and black mesh turbines. Delight in an enhanced and outstanding bass performance. Featuring two detachable single-sided cables, you will be able to find the cable length that distinguishes you apart from others. Make a firm statement with the HD 439 and feel the difference.

Features
Powerful neodymium magnets for an enhanced bass experience
Closed circumaural headphone design isolate against ambient noise
Ergonomic design provides a comfortable fit
Choice of two single-sided cables for flexible length and convenience
Optimised for portable audio including MP3, CD players, iPad, iPod, iPhone and mobile phones (iPad, iPhone and iPod are trademarks of Apple Inc., registered in the U.S. and other countries.)
2-year warranty
Delivery Includes
HD 439 headphones
1.4m and 3m detachable cables
6.3mm adaptor plug



745:-


Ord: 895:-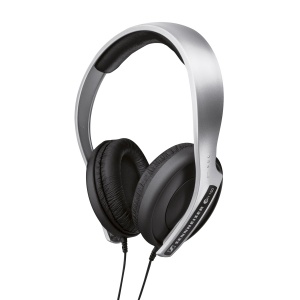 Sennheiser
The HD 203 are a pair of closed, dynamic hi-fi stereo headphones that are particularly ideal for working at the mixing desk with powerful modern music. Providing good insulation against ambient noise, a vivid, crisp bass response is also experienced.

Rugged and lightweight, these headphones deliver a comfortable and secure fit and can be used for both mobile sources and home (mini) hi-fi systems.

Features
Closed, supra-aural, dynamic hi-fi stereo headphones
Good attenuation of ambient noise
Powerful neodymium magnets and lightweight diaphragms for high sound levels
Extremely comfortable to wear due to ultra-lightweight design, even for extended listening
Rugged outdoor design with extremely flexible headband
3m highly conductive OFC copper cable
Replaceable leatherette ear pads



449:-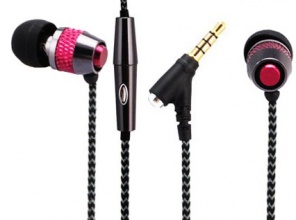 UGO
Tangle Free Earbuds with Microphone
Metal construction with soft silicon ear tips
Fabric tangle-free cable
Gold 3.5MM headphone jack
Built in microphone with function button

Cord Length: 43 inches
Impedance: 16ohms
Sensitivity: 100dB+3dB
Frequency Response: 12Hz-22kHz
Plug: 3.5MM stereo



295:-