BC Rich
Mockingbird Legacy ST

Honey Burst

BEG.



9995:-




Body Shape: Mockingbird Legacy

Construction: No heel Neck-Thru body

Body Wood: Mahogany "Nyatah Palaquium"

Top Wood: Quilted Maple

Body Finish: Honey Burst

Neck Wood: 3-piece Hardrock Maple for stability

Fretboard material: Indian Ebony Fretboard



Daphon
Body Material: Mahogany

Bow Material: Brazil Wood

Fingerboard Material: ELM



Eagle B.B Stone

Epiphone
Les Paul, Limited Edition

BEG.



2995:-





Solid body Electric Guitar with Mahogany Body,

Maple Top, Mahogany Neck, Rosewood Fingerboard,

and 2 Humbucking Pickups

Colour: Aquamarine

ESP
LTD H-208, 8-strängad



6995:-
Funktioner/specifikationer:

Kropp: Lind
Stall: Fast (8-sträng) Stall
Finish: Svart (BLK)
Hals: Lönn
Konstruktion: Bolt-On
Greppbräda: Rosenträ

Mickar:
Stall: vESP LH-308
Hals: ESP LH-308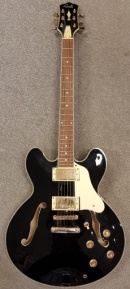 Gould
CS135



2995:-


Ord.pris 3295:-
Halvakustisk gitarr
(Limmad hals, 2 humbucker pick-ups, 3- vägs switch)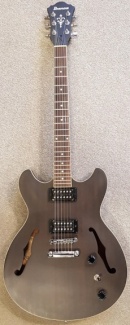 Ibanez
Body type: Hollow-Body

Cutaway: Double-Cutaway

Body wood: Sapele

Neck wood: Mahogany

Fingerboard: Rosewood

Pickups bridge: Humbucker

Pickups neck: Humbucker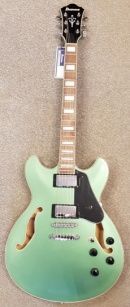 Ibanez
Neck Type : AS Artcore

Neck Material : Nyatoh

Fretboard : Bound Walnut

Body material : Linden

Neck Pickup : Classic Elite

Bridge Pickup : Classic Elite

Colour: Olive metallic

Ibanez
Gio, GRG170 DXL (lefthanded)



2695:-


Ord.pris 2995:-
Body: Poplar

Construction: Set-Neck

Finish: Black

Neck: Maple

Fingerboard: Bound Rosewood

Bridge Pickup: Infinity R (H)

Middle Pickup Infinity RS (S)

Neck Pickup: Infinity R (H)


Ibanez
GRGM21M-WNS Walnut Sunburst MiKro
size 3/4



2.195:-
Body Type: Solidbody

Body Shape: Mikro Gio

Body Material: Basswood

Color: Walnut Sunburst

Neck Material: Maple

Fingerboard Material: Jatoba

Number of Frets: 24

Neck Pickup: Infinity R (H) Passive/Ceramic

Bridge Pickup: Infinity R (H) Passive/Ceramic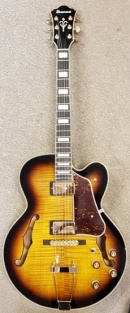 Ibanez
AF95FM-AYS
Elgitarr Artcore Expressionist



5495:-
• AF Expressionist 3pc Nyatoh/Maple set-in neck.

• Flamed Maple top, back and sides.

• Gibraltar Performer bridge.

• Super 58 (H) neck pickup (Passive/Alnico).

• Super 58 (H) bridge pickup (Passive/Alnico).

• Gold hardware.



Ibanez JS Series
BODY: Basswood

NECK: 1pc Maple JS Prestige

FRETBOARD: Rosewood

BRIDGE: Edge tremolo

NECK PICKUP: DiMarzio Pro Track

BRIDGE PICKUP: DiMarzio Mo' Joe


Ibanez Axion Label
RGA61AL-IAF



11.995:-


ord.pris 14.250:-
Colour / Finish: Indigo Aurora Burst Flat

Body Material: Nyatoh

Top: Flamed Maple

Neck: 5-pcs.Panga Panga/Walnut

Neck Profile: Nitro Wizard

Fretboard: Makassar Ebony

Neck Pickup: Bare Knuckle Aftermath

Bridge Pickup: Bare Knuckle Aftermath





Ibanez
S5470 Prestige

BEG.



8995:-




Prestige Super Wizard neck

Mahogany body

TKS - Transparent Black Sunburst

Original hard case included

Maison LPC-190
Les Paul Custom

BEG.



6995:-




Brand: Maison

Model: LPC-190

Finish: Black

Categories: Solid Body

Made In Korea

Maya Stratocaster
Lake Placid Blue

BEG.



6995:-




1970s Maya - Stratocaster - Lake Placid Blue MIJ

1970s Stratocaster "Law suit copy" made in Japan with matching headstock.
Including hardshell case.


Spear
Les Paul / Relic Copy



3495:-
Distressed Antique White Spear Les Paul style electric
with P90 Pickups and relic hardware.

SX VTG Series
Body Material: Solid Basswood

Neck Material: Selected Canadian Maple

Fingerboard Material: Engineered Rosewood

Pickups: 3 x Single Coil

Finish: Black Gloss

Vintage
Joe Doe by Vintage Jailbird

Limited Edition



6490:-



Joe Doe luxury hardshell case included!
Limited Edition 1 of 100 'Jailbird' is an original Vintage® guitar, designed and created by Joe Doe Guitars and the UK Vintage design team.

'Jailbird' owned by John Henry Burke

John Henry Burke, prison warden at the Ohio State Penitentiary from 1959 to 1977, believed music was the key to help his prisoners reform and rehabilitate. Burke allowed prisoners to keep radios and turntables in their cells, as well as make musical instruments in the workshop. Every year Burke would open the doors of his prison to welcome in families to watch their loved ones perform songs they had written on instruments they had made.

However in 1967, incarcerated arsonist Wilbur Reams started a prison riot by playing blistering guitar licks through a distorted amplifier. Burke reacted by putting a ban on what notes the prisoner could play, saying; "Anything north of the 12th fret of a guitar is looking for trouble. We're just gonna stick to simple blues and country." Burke continued to battle with Reams' over his incendiary guitar playing until May 3rd, 1973, when Reams suddenly escaped via the prisons' sewer system. In a cruel ironic twist, Reams had dug his way to freedom using tools stolen from the very workshop that Burke had set up to put his prisoners on the path to redemption.

Pickups: One Joe Doe Custom designed bridge pickup that is tangy and full, like Brody's blackberry hooch from D block. (But for a pack of smokes, we'll let you in on a little secret - we've tunnelled underneath the ovoid pick guard and put a hot humbucker under there. Shush, you never heard it from us…)

Neck: One piece Hard rock Maple neck, shaped into a classic Vintage 'soft C' profile. Real warm and comfortable in the palm, like the goodbye handshake you get from Warden Burke on the last day of your sentence.

Fingerboard: Lignum Rosa™ with keyhole and barbed wire inlays.

Case: Joe Doe luxury hardshell case with case candy.

Certificate: Certificate of authenticity included.



Vintage
Reissued Series V52




3990:-



Body: Eastern poplar

Pickups: Pair of Wilkinson Single Coils;
WVTN pickup at the neck and a WVOB in the bridge position.

Neck: Hard rock Maple



Vintage
Reissued Series V65



3995:-
Body:
Maple body, provides resonance, tone and 'correct weight' comfort.

Bridge:
Vintage offset vibrato provides pitch manipulation, superb tuning stability and adjustable intonation for each string.

Pickups:
Two Wilkinson Soapbar single coil pickups provide fat and articulate cleans and cutting, punchy overdriven tones.

Neck:
One piece Maple with classic Vintage 'soft C' profile.

Fingerboard:
Lignum Rosa



Vintage
VS6 Reissued Vintage White
Left hand



3890:-
Kropp: Mahogny

Hals/Greppbräda: Mahogny

Stall: Tune-O-Matic w/Stoptail, färg gold


Vintage
VS6 Reissued Vintage White



3995:-


Ord.pris 4190:-
Body:
Mahogany body

Neck:
One piece Mahogany

Bridge:
Wilkinson Tune-O-Matic

Pickups:
Three Wilkinson WOCHB Double Coils









Washburn
The X-200 Pro E features the classic Washburn X-Series body shape with
a pair of EMG 85 and 81 pickups.
Like all models in the 200 PRO series, the X200 PRO-E features:
a solid body, maple neck, rosewood fingerboard,
the acclaimed Buzz Feiten Tuning System TM,
Grover 18:1 tuners, Tune-O-Matic bridge, quality hardware.

+ it comes with a hardcase.

Yamaha Pacifica
Body: Alder

Neck: Maple

Fingerboard: Maple

Bridge: Vintage Tremolo

Pickups: Single Coil X 2, Humbucking X 1

Colour: Natural