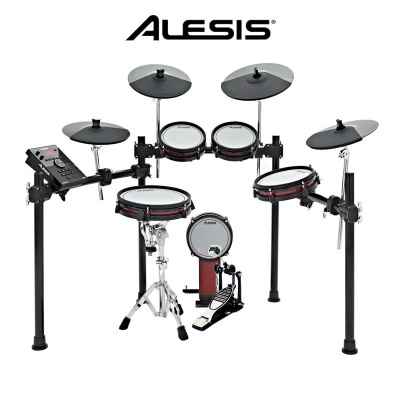 Alesis
Crimson II Special Edition

Nine-Piece Electronic Drum Kit with Mesh Heads

NU:

10.895:-



Ord.pris 11.699:-
The Alesis Crimson II Kit is a Nine-piece electronic drum kit featuring exclusive Alesis mesh drum heads that delivers the perfect feel and expression. It features an 8-inch kick, 12-inch dual-zone snare, two 8-inch dual-zone rack toms and a 10-inch dual-zone floor tom, along with a 12-inch hi-hat with pedal, two 12-inch crashes with choke and 14-inch triple-zone ride. A premium quick lock chrome 4-post rack with separate double-braced snare stand keeps everything solidly anchored, no matter how hard you play!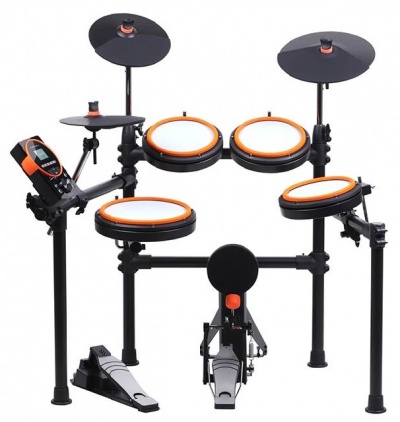 Medeli
MZ528 Digitaltrumset

NU:

7.990:-




Ord.pris 8.745:-
digital drum kit all dual zone with mesh heads 10S-8-8-8-6K, 10HH-10C-10R
Unleash your drumming potential with the Medeli MZ528 digital drum kit, a versatile and affordable instrument that is perfect for musicians of all ages and skill levels. With its all-mesh head design, the MZ528 offers a realistic and comfortable playing experience that is sure to inspire your creativity.

Featuring 4 mesh drum pads and 3 cymbal pads, the MZ528 offers a wide range of drum sounds and percussion effects that are perfect for exploring different genres and styles. The MZ528 also includes a built-in sound module and USB/MIDI connectivity, allowing you to easily record and produce your own music.

The MZ528 stands out with its all-mesh head design, which provides a more authentic and expressive playing experience. Whether you're jamming at home, practicing in a studio, or performing live on stage, the MZ528 has everything you need to take your drumming to the next level.